Al-Turka Family Lawyer Islamabad is the Best Islamabad Lawyer chamber that Stretching the Limits in Legal Services like Family, Criminal, Cyber etc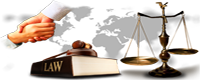 Al-Turka Providing Legal Services in Islamabad, Rawalpindi, Sargodha and Jauharabad/Khushab.We deal all types of cases but specialization in Criminal, Civil, Family, Custom, Cyber and Banking Laws.
Read More
Islamabad Family Lawyer
Al-Turka providing best services in Family relates like Court Marriage, Divorce / Khullah (Talaq), Child Custody, Maintenance etc. In case of any family related case simply contact us before visiting any legal advisor. We have no consultancy charges.
Working With Excellent Attorneys
1. Get Legal Advice
No Need To Visit Anywhere Just Post a question or Make a Call and get free legal advice direct from our experienced lawyers.
2. Document Reviewing
Get a thorough review of your legal documents by an attorney for as little as PKR0 per document
in Islamabad
3. Discounted Rates
Case charges depends on case situation but we assure you that our charges most economic in Islamabad.
Free Case Evaluation
We will get to know you and your family so that we can help the jury understand what has happened to you and your family and how it has changed your lives.
Best Islamabad Lawyer
Al-Turka offer free case evolution to every client. Al-Turka Suspended offer for Poor & helpless peoples. If you are facing any legal difficulty to pay dues then don,t Leave Your Right, Don't Silent on Barbarousness. Advocacy is my passion and I will support you, against Ill-Usage and Cruelness free for Awans and Needy. So Contact Best Islamabad Lawyer.
Shah Dil Awan is a very kind lawyer. I visit first time with lot of fears. He guide us very carefully. I am thankful to my kind lawyer. Now I am secure.
Uzma Ch